Poetry

Artwork

Fiction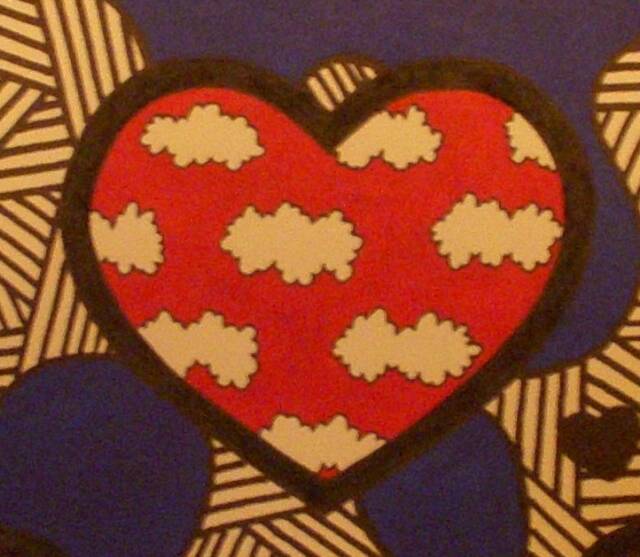 All Content Copyright © Chris J. Melanson. All Rights Reserved.

"I've had troubles in life. I've had success in life. Through it all, I have always considered myself an artist. And as an artist, my main goal is not to become rich and live the privileged life, it is to inspire others—to help others—either through my art itself or through my many ups and downs which I have constantly continued to learn from."


Christopher Joseph Melanson was born in Worcester, Massachusetts on June 2, 1981. Around the time of his birth, his mother, Debra, was tangled in a "street lifestyle," and everything else that goes along with one. Chris was born healthy, but his grandmother, Beverly (Debra's mother,) knew if he was to stay in the care of his troubled mother, he would not stay in a healthy condition for long. Bev gave Debra the opportunity to get help with her troubles and get herself clean from her drug addiction, so that she would be able to care better for Chris, but as just stated, she was tangled in her lifestyle. Unfortunately, this lifestyle was something Chris' mother could never find an escape from.

Shortly after Chris' birth, Bev took custody of him and brought him up on her own in Charlton, Massachusetts. Living with Bev, Chris was raised well, but he grew up with no recollection of who his father was, and because of Debra's troubles in her own life, she was not too involved in Chris'. Bev soon became "mother" to Chris. Throughout his childhood and early teenage years, Chris and Debra had only two or three real conversations together, and these conversations were shortly before Debra's death on March 3, 2001. Chris was nineteen years old when his mother died. A regret he now admits is while his mother was in the hospital, with the knowledge she would soon die, he refused her requests to see him before her time came.

Though Chris' mother wasn't a person who was regularly in his life—a person who was there to teach him the world—he did come to realize later on in life that he did learn a lot from her, and that she gave him something—a gift—that he appreciates greatly, even though he sometimes wonders if what she gave him is actually a gift at all or just some kind of curse (you have to know Chris)...she gave him his talent...she gave him poetry and art.

When Chris was young (probably twelve or thirteen years old) he came across some old notebooks while snooping through some of his grandmother's dusty boxes in her attic. The notebooks were Debra's, from before the time she became tangled, and from during the time. These notebooks were filled with poems, short stories, and small abstract drawings—all of her own creation. Chris sat there and looked through these notebooks for quite a while, and as the days and weeks passed by, he would find himself going up into the attic to look through the notebooks more and more. Chris was amazed; he was looking at his mother's art and reading her words—his mother, who he was unfamiliar with and confused about. This is when Chris first started to "doodle" his own small abstract drawings. Before this, Chris was never into any type of art or creative expression at all, besides music.

As time passed even more, Chris continued to draw, and when he was about fifteen years old, he first started writing his own poetry. Chris admits that he probably would have never drawn or wrote a thing if he hadn't come across his mother's notebooks in the attic. Another regret Chris now holds is that he never mentioned anything of this to his mother. "Hopefully she now knows, where ever she may be," Chris has said.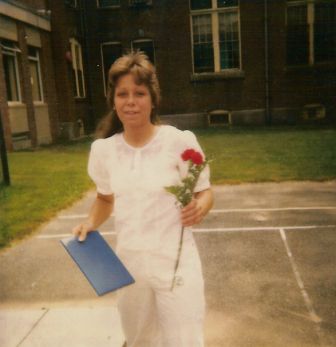 Chris' mother, Debra. This picture was taken on June 12, 1983, at M.C.I. Framingham, a womens correctional facility in Massachusetts. She was serving time for a drug conviction.


During his high school years, Chris did not truly consider himself an artist or a poet, although others may have. Nonetheless, Chris continued to draw and write, and he eventually started filling his own notebooks, like his mother once did, (Some of these notebooks Chris has lost, one was stolen, and some he still has—his mother's notebooks included.) Chris would bring these notebooks to school and to parties and show them around to his peers, trying his best to keep them away from teachers and other adults, because of the type of language he sometimes tended to use. A lot of people took an interest in his work and he would always hear things such as "Wow, Chris! You really have to try and do something with this stuff!" As more poems were written, and as more drawings were created, he, too, started to realize that he should try and do something with his work...but Chris decided to procrastinate and put more time into having fun instead: partying with friends and causing trouble around his school and neighborhood.

Chris removed himself from high school in the tenth grade to work for his uncle and aunt's swimming pool, hot tub and billiard table retail business. He still continued to create his art and write his poetry, but also continued with the procrastination and the partying. In 2002, Chris' partying ways caught up with him. Chris took a trip to where people go when they make poor choices. He was convicted for minor misdemeanor charges. In ways, this trip was a very important one for Chris, because while being incarcerated, it was when he first started to get heavily into his writing and drawing. During those days, he started to really see the gift that he had and also the potential that was there. "In jail, people really took an interest in my work," Chris said in a 2008 Pascarelli Gallery interview. "The work was very popular. I liked how people treated my work. And then when I returned back to civilization, I had all these new poems and drawings that were unseen, (well, at least by all the law abiding citizens and the ones who just hadn't been caught,) and my art continued to stay popular with these people." Yet again, Chris was hearing, "Chris, you have to do something with this stuff!" Unfortunately, he failed to listen and failed to hold on to the lessons he learned from being incarcerated. He instead went right back to procrastinating and partying. Chris did, however, put together a poetry and art compilation in 2005 with the title Love, Death and Pain.!? (Learn from my mistakes). The book was sold in coffee houses and in mom-and-pop book stores all around Worcester County. "The compilation was very good and I sold a lot," Chris said in an interview for this About Chris section, "but I put it all together rather quickly, and I regret that it could have been much better. Especially the spelling and grammar." That particular title is no longer available, but Chris plans to release a better edited version in the near future with the title Love, Death and Pain.!? (The poetry and art of Chris J. Melanson 1998-2008). "I'm sure good things will come with the release of this version," Chris promises, "whenever the hell I find the time to get it out there."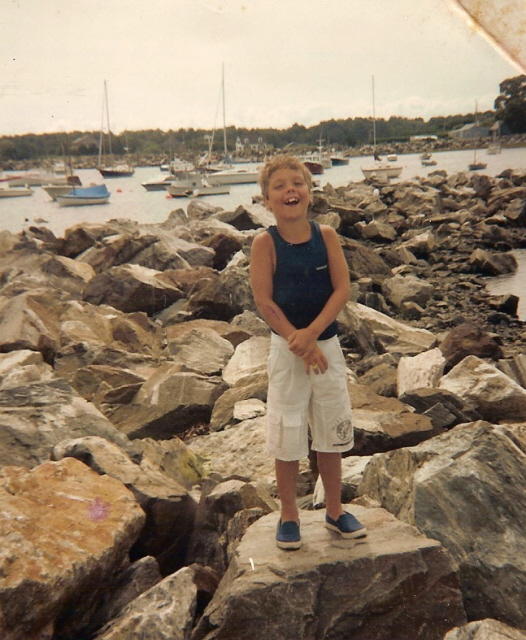 Chris as a young child. This was taken at Hampton Beach, NH or Cape Cod, MA, probably somewhere around 1986 or 1987.


In 2005, after messing around with pastel for about a year, Chris finally took a try at painting—thanks to some of his close friends. Painting quickly became Chris' favorite and least favorite thing to do. "I wanted to keep my 'psychedelic,' abstract style with my paintings, like most of my drawings are, but I eventually just decided to get down whatever I saw in my head," Chris says about when he first started painting. "I immediately realized I prefer using oils. When I first started painting, I was in love with the texture of my paintings when they were finished. I couldn't get enough of oils. I messed around with acrylics for a few months, when I first started painting, but knew it wasn't my style. I threw out every single acrylic painting I ever did, except for Drunken Reflection, because, to me, they honestly just looked like shit."

In early 2006, a local artist group noticed Chris' work in Love, Death and Pain.!? (Learn from my mistakes) and contacted him. They gave him some advice on how to get his work into the public view better than it already was. Chris then quickly became a featured artist on Pascarelli Gallery, displaying a total of 18 pieces of his many. During 2006, he also took part in three group art shows at different galleries around Worcester County. Chris found himself selling his works for a fair amount of money through the Pascarelli Gallery site, other art websites he also became affiliated with, and at the three art shows. Chris also started to sell his works privately to individuals he had met around the Worcester area. Things were going good.

In late 2006 and in early 2007, Chris had a few group art shows lined up and even what would have been his first solo show, but he had failed to slow down with his partying. On August 18, 2006, Chris was arrested for non-felony DUI. And he once again found himself behind bars.

During this second trip, Chris, of course, continued to write and draw, and there was no change in how people reacted to his work, compared to his first trip, but something changed in Chris; he learned a lot about himself, and about life—things he thought he had already known. Chris finally realized that he would continue to pay a heavy price to live a carefree lifestyle. This he wanted to avoid at all costs. And during that second trip, Chris finally found the time to pursue another form of expression that he had wanted to try since his first trip; Chris started writing what would be his first fiction novel. Chris began the writing of The Five Streets of Tragedy in 2007, a very deep and poetic story, told by his fictional character, Richard Paul. At the present time, Chris prefers not to explain what the story is about, for the novel is still in production. All Chris will say about it is that it's a very heartfelt story which was inspired mostly by the life and times of his mother, Debra, and other special people he has met throughout his life. He is sure the story will be both interesting and inspiring to many different personalities. Once Chris is finished with the manuscript, which should be somewhere in the next two years, he will find a proper editor and then proper representation to find him the right publisher. Chris hopes to have it published before 2014, if everything goes well. "It takes a long time to publish a book, believe me," Chris said. "And sometimes sitting down to write it is the last thing I want to do, but I persevere, knowing that it's all going to be worth it when I see the novel on the shelves at Barnes & Noble or on someone's Kindle." Chris also began writing short fiction stories in 2007, and has completed four so far: Kyle's First Fish, Delusion, Confessional Autobiography and Love and a Train. Kyle's First Fish was published in 2008 by DarkPress and received pleasant reviews. He is presently working on publication of the others, and is in the middle of writing a few more short stories as well, which will be ready for publication in the near future.

In June of 2009, Chris took part in an art exhibition in downtown Manhattan. Chris sold 14 of his artworks and donated 30 percent of his profit to a local charity. Chris has not participated in any shows since the 2009 exhibition. He plans to take part in more exhibitions in the future, but not until after he is confident with a vast body of finished work, and after some other things as well. "I think about my work every day," Chris says for this About Chris section, "and also think about and my work's future—and my future. I have to go at this particular pace. I know I will get recognition someday in that future, because for once in my life I am doing the right thing. And people see this and know this. I won't be anything and my work won't be anything unless I'm a person to be admired. No one admires a trouble maker, no matter how much talent this person holds. I want to do the right thing now so I can inspire people with not only my work, but with my life. I will do more shows once I have a ton of work finished and once I am confident I won't let people down—or myself down. I want to first start off in my recognition with a few good years behind me. It's the only way." Chris' artwork and writing obviously cannot support him alone at the present, and he does not want to be a "starving artist," so he continues to successfully work hard every day for his uncle and aunt's business, where he has been since he was 14. In 2008, Chris received a sales award from The Worcester Business Journal for his accomplishments at his uncle and aunt's Worcester County business.

So, that's that. That's Chris, for now. It was a bumpy road for a while, but things seem to be smoothing out for him—things are going very well at the present time. And the future, well...the future is just that for this creative character. And for everyone.